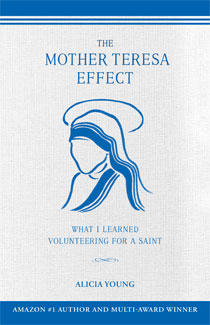 **NOW AVAILABLE ON AMAZON!**
IN ORIGINAL EDITION &  FAMILY EDITION (AGE 14+).
Print Kindle
Family Edition on Kindle
What's it like to meet a future saint?
To work for one?
Mother Teresa's mission to the poor resonated through every country, faith, income level, and worldview. Her compassion touched everyone from small children to heads of state—and one garden-variety Catholic. Journalist Alicia Young volunteered in Calcutta (now Kolkata) over Mother's final Christmas in 1996. She divided her time between Kalighat, the Home for the Dying Destitute, and a rural leprosy hospital.
In The Mother Teresa Effect, she narrates her transformative journey with humanity, color, and gentle humor.
As the world celebrates the newly canonized Saint Teresa, Alicia vividly:
• Reveals meeting her—an encounter that veered into unexpected territory
• Recounts daily life at the hospice and leprosy ward
• Explains how a one-time go-go dancer coped with living in a convent
• Chronicles daily life in Calcutta, from pavement dwellers to elegant soirees
• Relates anecdotes from others who have felt her ripple effect
• Shares simple, potent lessons she learned on gratitude and nonjudgment
Alicia Young is a US-based Australian journalist with more than fifteen years' experience as a medical reporter, foreign correspondent, and news anchor. Outside work, Alicia handles parasols and power tools with equal ease (not really, but she helpfully holds the flashlight when needed).
www.aliciayoung.net