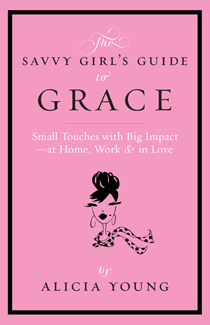 Buy on Amazon Have Alicia speak
The Savvy Girl's Guide to Grace: small touches with big impact – at home, work & in love.
[It makes a gorgeous graduation gift!]
Channel your inner Audrey Hepburn! The award-winning debut book covers simple ways to tap moments of grace and kindness in a rushed world. It's a light and bright read for Savvy Girls everywhere, exploring ways to celebrate your life, find beauty in small moments and relish the magic around us.
Cover Design: www.nitaybarradesign.com • Cover Art: © Anne Keenan Higgins
Further Reading
Discover further reading options.
Learn more
.
Book Club
Some questions that you might find handy to share with your own book club.
Learn more
.