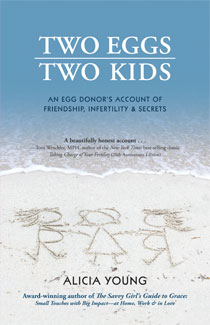 An easy read for a potential egg donor, recipient, or their family/friends.
—Lynn Westphal, MD, FACOG, Stanford University Medical Center
A real, conversational account … insightful and thought provoking.
—Lauren Haring, RN, Director of Nursing, Genetics & IVF Institute (givf.com)
A refreshing perspective on the journey to being an egg donor.
—Gail Sexton Anderson, EdM, Founder, Donor Concierge (donorconcierge.com)
 Alicia Young doesn't have kids. (She forgot.)
Yet she has two biological children.
Two Eggs, Two Kids shares how Alicia came to donate her eggs to two couples—both good friends. The way these families began and unfolded are starkly different. One baby's origins were celebrated in the open; the other's, cloaked in secrecy.
Discover a touching and gently humorous look into the world of infertility. Meet:
Alicia, the egg donor, who explains why she did it—and how
Angela, one of the egg recipients, who recounts her journey
Rachael, Angela's daughter, who discusses her "spare mom"
A Guided Tour to Being an Egg Donor:
What to expect: the physical and emotional assessment
Questions for donors/recipients and tips for friends
Anecdotes from donors, recipients, and family members
Buy on Amazon Have Alicia speak
Book Club
Some questions that you might find handy to share with your own book club.
Learn more
.